In today's fast-paced world, more and more of us seek different ways to relax and relieve stress. The pandemic, the instability of the world economy, and many other factors have rendered us anxious and agitated.
In such a scenario, turning to weed seems like the right thing to do. If you reside in one of the states in the U.S. that have legalized marijuana use – good for you! You can even have the herb delivered to you.
So, if you're wondering: "how do weed deliveries work?" continue reading our blog on how to get marijuana delivered to your door. From finding the best weed dispensary near you to explaining how to place an order, we'll cover everything you need to know to get you started.
Weed Delivery: What Is It and How Does It Work?
As the name entails, weed delivery is the process of ordering products containing marijuana without purchasing them from a physical store but having them delivered to you directly.
Regarding "how does weed delivery work," there is a pattern cannabis smokers need to follow, such as placing an order online or making a phone call to a licensed weed store. For instance, if you're thinking of weed delivery in Maryland, you can easily find a reliable weed dispensary that does same-day delivery.
After placing your order, you will receive a confirmation e-mail or text with a designated ETD (estimated time of delivery). When you get the delivery, you need to show an identification document (your ID or driver's license will work), sign for the delivery, and pay in cash.
Legality Nuances of Marijuana Use in the US
Other than Maryland residents, marijuana is legally available in the states of California and Oregon, but only for adults over 21. Other states in the US abide by particular marijuana laws and regulations that might require possessing a medical marijuana card. At the other end of marijuana legality, Kansas and South Carolina are some U.S. states that have entirely banned marijuana use, whether for medicinal or recreational use.
How to Place an Order for Weed Delivery?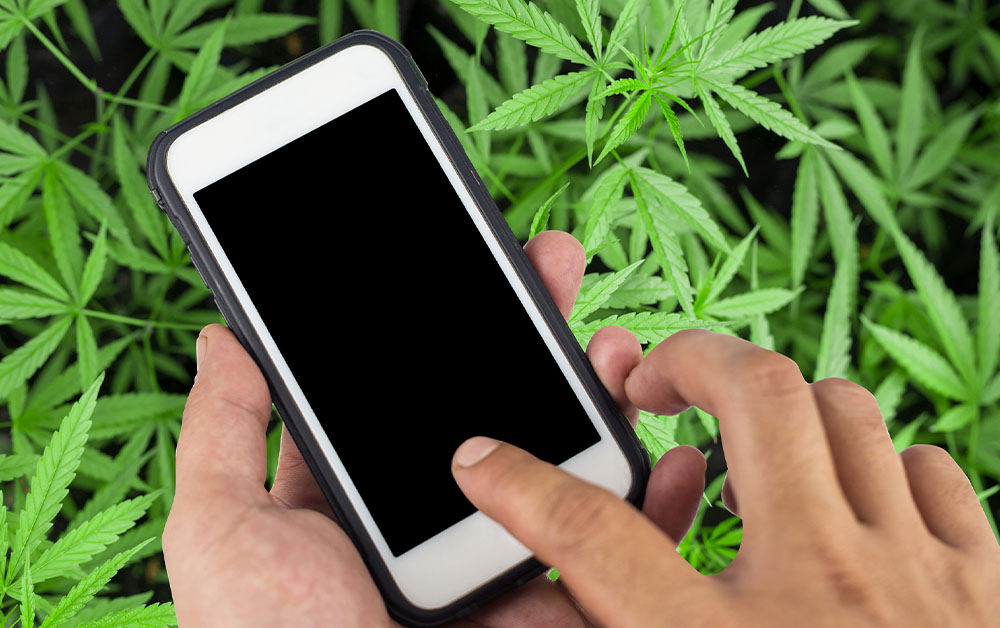 Since the majority of states in the U.S. require medical cannabis cards, it's probably a good idea to become a registered cannabis user or at least verify your cannabis registration status.
Yet, marijuana-friendly states that have legalized the herb for both recreational and medicinal use require no special documentation or verification – you are legally free to enjoy your weed, unhinged.
Many marijuana delivery providers operate via websites or apps, making it easier for customers to browse through weed products, like flowers, tinctures, edibles, pre-rolls, concentrates, CBDs, and all kinds of accessories.
After you have landed on a choice and paid for your goodies via one of the many payment methods available, the service provider will get in touch with you – by phone, e-mail, or text – to confirm your purchase and set a delivery time.
If you have placed an order during regular working hours (generally from 9 AM to 5 PM), you can expect to receive your order within 2-3 hours from making the purchase or at least get same-day delivery.
Is Weed Delivery Safe?
Absolutely. Think of your weed delivery as regular grocery delivery. If your state has given the green light for marijuana use, you are at absolute liberty to have the herb delivered to your doorstep, no questions asked.
Usually, weed deliveries happen during the daytime to prevent the deliverers from being targeted for robbery. It is a rare occurrence, but it happens nonetheless.
When you browse a site for weed, look for weed shops that offer cash app payments if you want to pay upon delivery. For instance, weed delivery in Maryland works by offering customers different payment options and methods, like paying for your goodies right after you've placed an order or doing it when the delivery person hands you the package.
How Much Does Weed Delivery Cost?
There isn't a standard rule for charging for weed deliveries – it mostly depends on the number of products you purchase. Some weed dispensaries offer special deals and bundles coupled with a fee-free delivery, while others charge a certain fee regardless of it.
In most cases, a weed dispensary might charge a product by the gram, but it will require a minimum of 10-gram purchase to make a delivery. Other weed delivery services might offer free delivery depending on the location, covering a distinct area, while some might offer a flat delivery rate on all their products.
It's also worth mentioning that some weed dispensaries will only accept cash upon delivery, so be sure to do your research on the subject.
Green Gorilla: Unmatched Weed Delivery Maryland Service
As Maryland's number one weed delivery provider, we at Green Gorilla stock up on different kinds of weed goodies and special deals.
Are you looking for a disposable vape pen? Try our Eureka Mellon Madness – you'll come back for more!
From high-quality concentrates to top-shelf weed, you'll love the diversity of weed goodies we offer. Plus, we'll have your favorite edible delivered to your doorstep in no time.
You can reach us right from our website to place your order or shoot us a message on Telegram!