Pre-rolled cannabis joints might be perfect if you want to enjoy weed quickly and easily. But with so many different types of pre-rolled cannabis products on the market, it can be tough to know the best one for you. We'll look at the two most popular types of pre-rolls: joints and blunts, so you can decide which one is right for you.
Difference Between Joints and Blunts Pre-Rolled Cannabis
The main difference between joints and blunts is that joints are rolled with marijuana flower, while blunts are typically made with cigar wrappers. Blunts provide a more intense high since they contain tobacco, a stimulant. On the other hand, joints do not contain tobacco and give a mellow high.
Joints are usually rolled with papers that are thin and easy to ignite. Blunts are rolled with thicker paper, which can be difficult to light. The size of a joint is also typically smaller than a blunt.
You will taste the marijuana more since there is no tobacco when smoking a joint. You will taste the tobacco more since the cigar wrapper is usually made with tobacco leaves when smoking a blunt.
Go for a blunt if you want an intense high. But if you're looking for a mellow high, stick to joints.
Types of Pre-Rolled Cannabis Joints
Joints are pre-rolled cannabis cigarettes that use thin rolling paper made of paper, rice, flax, or hemp. Infusing different flavors into the rolling paper can also enhance its flavor. These flavors include cherry, grape, and chocolate. Joints also contain less than a gram of cannabis.
There are several types of joints, including the classic, tipped, and pinner.
Pre-rolled Cannabis Classic Joints
A classic joint is the most common type of pre-rolled cannabis cigarette product. It is slightly smaller than cigarettes and has twisted ends.
Pre-rolled Cannabis Tipped Joints
A tipped joint is a pre-rolled cannabis cigarette with a filter tip made of cardboard or paper. The filter tip helps prevent your lips from coming into direct contact with the cannabis. They are usually made with thinner rolling paper than classic joints.
Pinner Joints
A pinner joint is a pre-rolled cannabis cigarette smaller in size than a classic joint. Consumers make this pre-rolled cannabis when they have a low stash supply. Their cannabis content is so low that many people feel it's not enough for them. These types of joints got their name since they resemble sewing pins.
Types of Blunts
Blunts are cigars that have been hollowed out and filled with cannabis. They are often larger than joints and offer a more potent high. You can use pre-rolled cannabis, tobacco leaves, or both to make blunts.
There are two types of blunts: pre-rolled blunts and blunt wraps.
Pre-rolled blunts
Pre-rolled blunts are pre-made cigars that have had the tobacco removed and replaced with cannabis. You can find pre-rolled blunts in the market in packs of two or more.
Blunt wraps
Blunt wraps are sheets of tobacco that can be rolled into a cigar shape and then filled with cannabis. These tobacco sheets come in packs of one or two.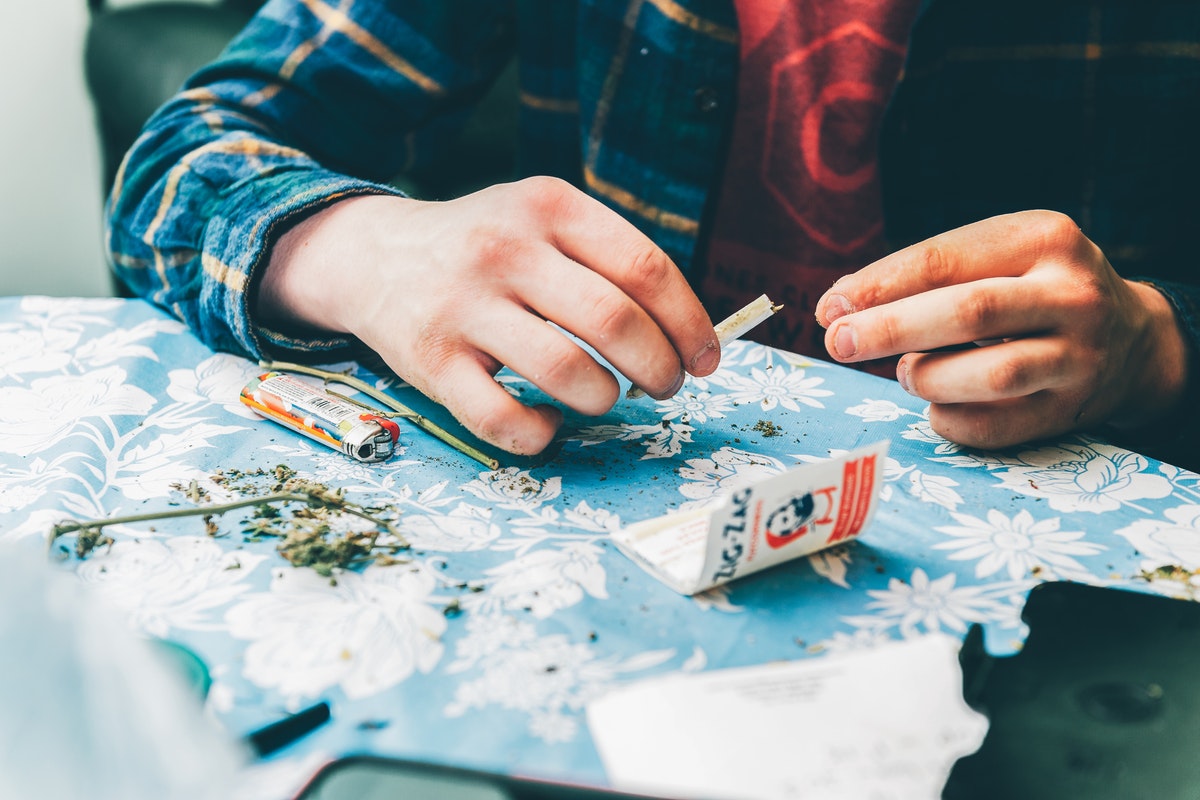 How to make a Joint
To make a joint, you will need rolling papers, a cannabis grinder, and your favorite strain of cannabis.
Start by grinding up your cannabis using the grinder.
Take a rolling paper and place the ground-up cannabis in the middle.
Roll the paper up tightly, making sure to tuck in the ends.
Lick the adhesive strip and seal the joint.
Twist the ends to finish it off.
How to Roll a Blunt
Rolling a blunt is not as difficult as it may seem. Here are the steps:
You will need to gather your supplies: pre-rolled cannabis, a grinder, and a cigar wrap.
Break down the cannabis into small pieces using your grinder. Once the cannabis is ground up, remove the tobacco from the cigar wrap and discard it.
Place the ground cannabis inside the cigar wrap and roll it up tightly.
Lick the edge of the cigar wrap to seal it, and enjoy your blunt!
Pros and Cons of Pre-rolled Cannabis Joints
The pros and cons of joints are as follows:
Pros:
Joints are easy to roll and share
You can control how much cannabis to put in the joint.
You can control how much you smoke.
Cons:
Joints are easy to lose.
The paper can affect the taste of the joint.
You can't reuse the paper.
You have to grind the weed yourself.
Pros and Cons of Pre-rolled Cannabis Blunts
Here are the pros and cons of blunts
Pros:
Blunts burn slower than joints, so they last longer.
You can pack more cannabis into a blunt than you can a joint.
Blunts tend to be smoother than joints due to the tobacco leaves.
The tobacco in blunts can add a unique flavor to your smoke.
Cons:
Blunts can be harsher on your throat and lungs than joints.
Blunts wrap cannabis in tobacco leaves, which some people may not enjoy.
The tobacco in blunts can make them more addictive than joints.
Get Pre-Rolled Cannabis Products Today
Pre-rolled cannabis is becoming increasingly popular as it is a convenient and easy way to enjoy your favorite marijuana strain. After discussing the difference between joints and blunts, you can decide which type is right for you. Contact Green Gorilla today for any questions about pre-roll cannabis products.