Tired of the same old Maryland OG? Are you thinking of trying a unique and innovative strain of weed, characterized by a potent, almost knock-out effect? Whether you are after something tasty and sweet, floral or fruity, or smoke-friendly and calming — the Purple Punch strain has your back! 
As an inventive mixture, the Purple Punch comes with its fair share of remarkable effects and promises to keep you pleasantly high and calm at all times. Keep reading to learn all about the Purple Punch weed — benefits, effects, composition, origin, etc. — and learn where to find a trusted Maryland provider.
Introducing the Basics: What is the Purple Punch Strain?
The Purple Punch strain is a mixture of two old-school hybrids — Larry OG and Granddaddy Purple, both famous indica dominants. Purple Punch is indica-dominant as well, with an 80% indica – 20% sativa ratio. 
The strain is recognized for its unique, fruity, blueberry flavor, and the potent combination of physical and psychological high. For many consumers looking for a punchy hit, the Purple Punch is a must-try.
Despite its popularity, the strain's effects are known to be quite heavy and mainly suitable for late-night relaxation. Most Purple Punch weed products have about 20% of THC, making them quite potent. 
What sets the Purple Punch strain apart is the 1% CBD content — it makes a world of difference for cannabis users hoping to chill and zone out.
Describing Its Origin, Physical, and Chemical Characteristics
The parents of Purple Punch are Larry OG (a mixture of OG Kush and SFV OG) and Granddaddy Purple (a mix of Skunk, Afghanistan, and Mendo Purps). Given that both of these are indica-dominant hybrids, the Purple Punch strain makes the best of both worlds in terms of effects. 
Appearance-wise, Purple Punch is quite light in color, with a fluffy texture, red pistils, neon-green nugs, and orange trichomes. Overall, the average amount of cannabinoids is about 25% to 26%, of which at least 20% is THC and about 1% is CBD. 
Its primary terpenes are Limonene at 8.2 mg/g, Myrcene at 2.2 mg/g, and Caryophyllene at 2.2 mg/g. Its secondary terpenes are Ocimene, Guaiol, Linalool, α-Bisabolol, α-Humulene, α-Pinene, and β-Pinene.
What Is the Flavor of the Purple Punch Strain?
One of the most interesting aspects of the whole Purple Punch experience is its unique flavor. In fact, its flavor is the reason it is known as a dessert strain and why it's recommended after dinner or before bed.
The Purple Punch strain offers a sweet, herbal aroma that is a combination of grapes, blueberries, and sour grape candies. Interestingly, you can even sense a bit of tart Kool-Aid and muffins in there. 
Apart from the mentioned, notes of lavender, vanilla, cinnamon, and a bit of orange can be detected as well. All of this makes the Purple Punch an ideal substitute for post-dinner dessert. But, instead of giving you a sugar high, it gives you a proper weed high and all the soothing effects you are after.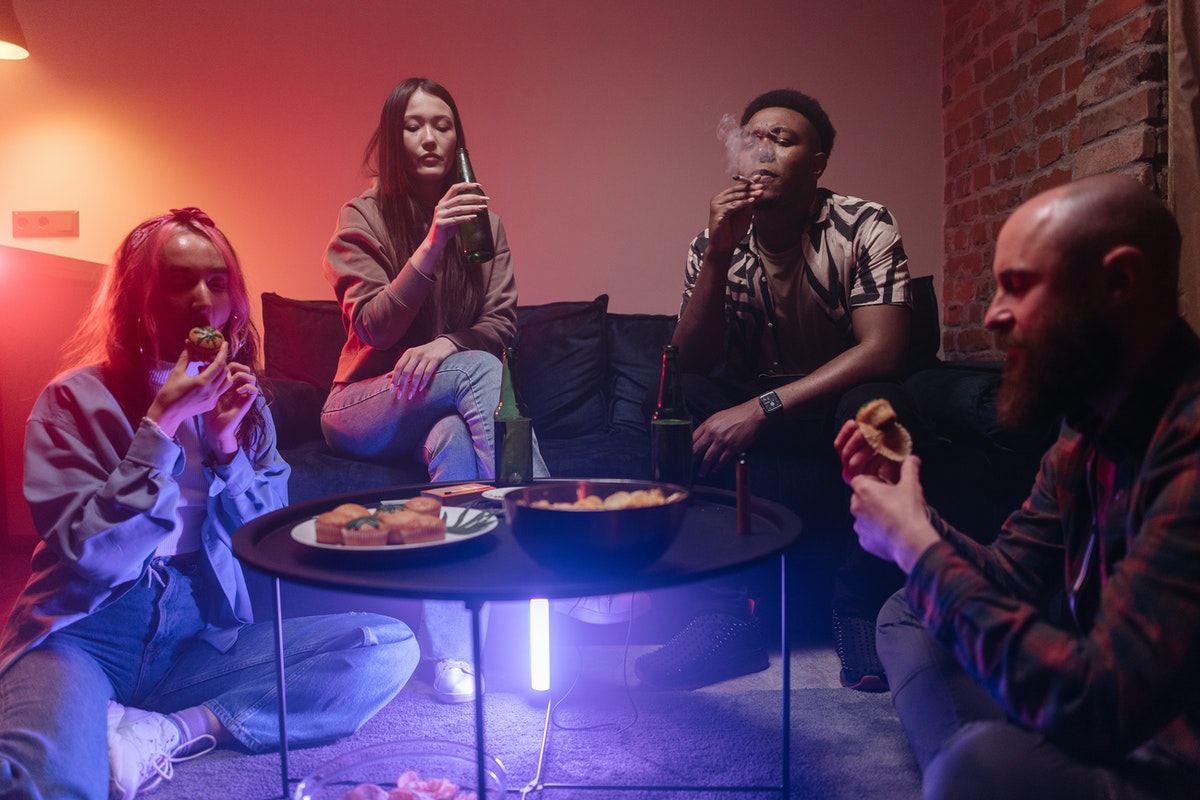 The Effects of Purple Punch Weed Strain
The Purple Punch strain is known to hit immediately, especially in the area between the eyes. 
Once it kicks in the head, it slowly spreads down the limbs and all over the body. The effects only get enhanced with time, and consumers can enjoy mindful and physical high at the same time. 
For many, the sensation is almost unbearable, as the strain feels so ecstatic, so it might not be the most recommended strain for beginners unless taken moderately. But, those who suffer from chronic pain can enjoy a period of strong relief when consuming the strain. It also contributes to a wave of relaxation, chattiness, and body ache-free experience. 
Using It to Stay Healthy — Mind, Body, and Soul
In general, the Purple Punch Strain is often used to combat anxiety, depression, stress, insomnia, and chronic pain. It's almost like a sedative that strikes right away and elevates your mood for a while until you move into a more serene sensation that enables uninterrupted sleep and coziness. 
The strain can be taken for medical purposes and is mainly used among athletes to manage muscle soreness and control muscle spasms. All of these properties, combined with the sweet taste and aroma, make the Purple Punch the perfect bedtime "snack" for many weed enthusiasts.
Find the Best Purple Punch Provider: Marijuana Dispensary Near Me
If you're searching for dispensaries near me in Maryland, Green Gorilla MD has you covered. Explore our products and find all cannabis options in one place — including our very own Purple Punch strain!
Flower, edibles, concentrates, pre-rolls, and vape carts are also part of our exclusive online selection. Shop on our website or contact our team to learn more about our products, shipping, prices, and options.