Maryland offers a lot of possibilities for spending a springtime holiday with friends while high on top-notch weed delivery in Maryland by Green Gorilla. Apart from historic sites and museums to visit, there are plenty of outdoor activities you can engage in. The best part is that you don't even need an extraordinary budget in order to spend a pleasant and fulfilling holiday. 
If you're organizing a once-in-a-lifetime vacation with friends, you've come to the right place. In this article, we will provide you with several ideas that will keep you on your toes. Check out our weed delivery service in Maryland and enjoy effortless service!
Go on a Hike on the Scenic Hiking Trails
Maryland stands out with its diverse trail system that includes several types of routes – flat, coastal, forest, and mountainous. Those who plan a quick walk will prefer the short and easy trails, but Maryland also offers high-difficulty mountain trails for experienced hikers. 
You can pack up your hiking equipment and visit the scenic Cunningham Falls, or maybe combine the love for hiking and historical exploration at the Civil War-era Fort Foote and the stunning Calvert Cliffs full of ancient fossils. Let's take a look at the most famous options to consider for a hike in Maryland. Hikes are so much better with our weed delivery service in Maryland.
Rocks State Park
Rocks State Park covers around 855 acres of mountainous forest land located in the rural part of Harford County. The Kind and Queen Seat above Dear Creek, along with Kilgore Falls, are some of the most famous attractions at Rocks State Park.
An interesting piece of trivia about these destinations is the fact that they were mentioned in the Disney movie Tuck Everlasting. Among the most attractive parts, there are 3.5 miles of hiking trails, three picnic areas, and quick access to Deer Creek. You can spend your time here fishing, tubing, and wading. 
Greenbury Point
Set in Anne Arundel County, more specifically at the shoreline of Severn River, Greenbury Point is a property owned by Naval Support Activity (NSA). Having been initially used as a mission-supportive conservation area, it has grown to be a famous destination for hikers. You can engage in many outdoor activities during a trip to Greenbury Point, such as running, dog walking, or admiring the stunning nature. 
Nowadays, Greenbury Point is accessible to tourists without public access to firearm ranges and similar training events. The roads usually used for recreation belong to the Surface Danger Zone as set by NSA Annapolis in terms of firearm range. The Surface Danger Zone (SDZ) denotes the area of land and air where visitors and equipment can be put in danger by demolition activities or ground weapons.
Loch Raven Reservoir
One of the most popular outdoor destinations in the Baltimore metropolitan area, Loch Raven Reservoir, is open to all tourists in Maryland who aim to spend a pleasant trip on the hiking trails that reach the reservoir's banks.  
You can go hiking or biking while observing the outstanding wildlife in the area, including woodpeckers, bald eagles, cardinals, ravens, blue jays, and a rich flora that includes beeches, maples, raspberries, oaks, wild roses, and more.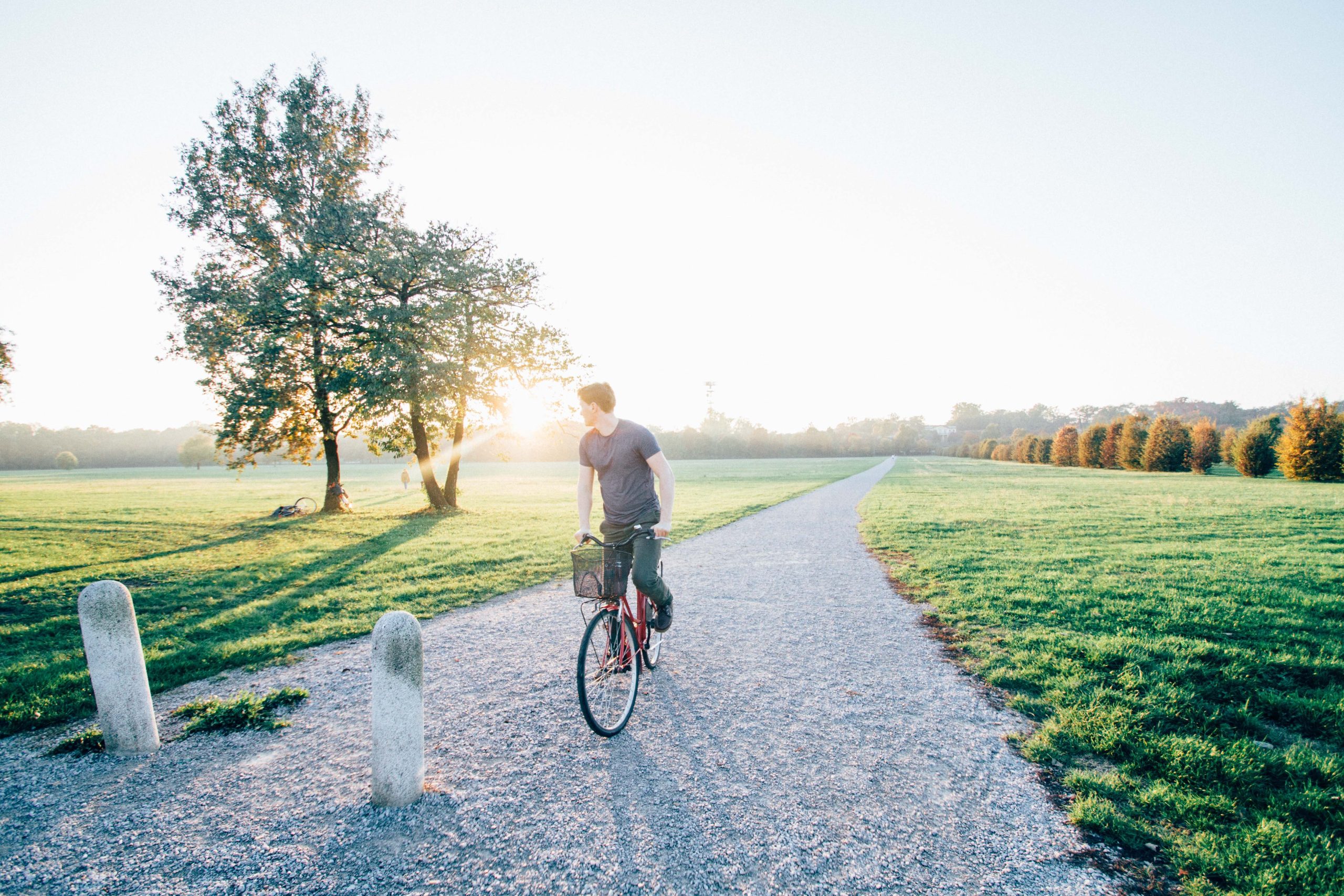 Plan Your Biking Trip in Maryland
If a picturesque town set on streets filled with shops and miscellaneous nature is included in your picture of the perfect weed-fueled springtime with friends, Maryland's bike routes are the right choice for you. Regardless of your specific skill level or interest, you can find the perfect bike route for an active springtime trip. 
The 13-mile Baltimore and Annapolis trail that connects Glen Burnie with the state capital is perfect for a bike excursion. You can stop by numerous stores for water and a snack to restore your energy. 
If you plan a longer excursion that includes longer trails and camping, you may consider the C&O Canal Towpath. With a complete length of 184.5 miles and a span from Cumberland to Washington DC, you can go for one of three trail sections in any period of the year. Charles County in Southern Maryland offers you the opportunity of visiting the Indian Head Rail Trail that spreads on 13 miles from the White Plains to the Town of Indian Head. 
While the Great Allegheny Passage is included in the Top 10 Fall Trips in the World in 2012 by National Geographic, it is also great for a springtime holiday with your friends. This passage spreads 150 miles and connects Cumberland, Frostburg, and Pittsburg. By going on a bike route in this mostly flat area, you can stop by and visit several bridges, viaducts, and historic tunnels. 
One of the best opportunities that the coastal roads on Maryland's Eastern Shore offer visitors is the Chesapeake Bike Tour. You can go for a relaxing and pleasant ride and enjoy the picturesque nature. The length of these tour rides usually ranges from 20 to 45 miles. 
We recommend joining an organized group for your bike routes, such as Discovery Bike Tours or Wilderness Voyageurs. To relax properly while you share some spliffs with your friends, make sure you reserve an extended stay of around four days.
Located by the Chesapeake Bay, St. Michaels is a peaceful historic town you can choose as the perfect destination for your biking session. By riding through the woodlands and inland farms, you can reach Oxford and stop by the Robert Morris near the Chesapeake Bay. Biking are so much better with our weed delivery service in Maryland.
Fill Your Angler's Bucket and Relax by the River
With its wide variety of wildlife in the same place, Maryland will satisfy every angler's expectations for their fishing trip. The wide variety of habitats with different species offers something for every state fisher. The most important thing to consider is the information on the official Fish and Hunt Maryland website.
Marlin is one of the most desired species for experienced fishers in Maryland, so you can stop by Ocean City, where you can also catch some billfish. You can find plenty of white marlin over the canyons and offshore, together with tuna and other high-quality fish. 
If you're searching for something new, another option in Ocean City is saltwater fly-fishing for bluefish, sharks, bonito, and more. While marlin is mostly present in the sea, striped bass (also known as rockfish) is present on the bay. This species is famous for its resistance and remarkable taste similar to tuna, making it one of the most delicious fish in the area. Some striped bass consumed with frosted beer and a smoking session can make an awesome end to your trip.
If your preferred destination for your springtime trip is the upper bay, you can visit the Annapolis tock or the Middle River in Baltimore. When you go to the eastern shore, Rock Hall and Kent Island are a must, whereas Solomons, Deale, and Point Lookout are the best destinations in the middle and lower bay. Relaxing are so much better with our weed delivery service in Maryland.
Best Places to Catch Bass
If catching bass is the priority you have in mind for your fishing trip , the Potomac River is one of the largest homes to this particular species in the state of Maryland. You can choose a guided charter from Cobb Island, Tall Timbers, Piney Point, or the National Harbor in order to fill your bucket with fish weighing from two to five pounds. 
Additionally, Maryland offers an outstanding opportunity for freshwater fishing in the Loch Raven Lake and the Liberty Reservoir, where you can find plenty of small walleye and largemouth bass. 
Relax by the River
Many tourists prefer remarkable scenery to enhance their fishing experience, which can be achieved on the Savage and Big Gunpowder rivers as well as the mountain streams in western Maryland. While enjoying the clear water and scenic nature, you can catch native brook trout and brown trout.
Embrace the Beauty of Maryland Beaches
Along its vast shoreline that spreads more than 3,100 miles, Maryland has a wide variety of scenic beaches that offer unforgettable relaxation on a spring day while high with your friends. You can choose from a long list of attractions, including the mountain lakes and the Atlantic Coast beaches of Assateague and Ocean City. Below, we will list some of the most attractive beaches in Maryland to spend your springtime holiday on. Enjoying the beach are so much better with our weed delivery service in Maryland.
Breezy Point Beach
Located on the east of Chesapeake Bay, Breezy Point Beach stretches on a half-mile-long area of groomed sand. This beach offers an attractive swimming space surrounded by a net that keeps the water out from nettles, jellyfish, and similar critters.
If you prefer a wide-open swimming beach with quick access to the Western Shore, Breezy Point Beach is the perfect place to visit on the Chesapeake Bay. It includes the full range of required facilities, nearby parking, and lifeguards. The entrance fees depend on the time of the year, and no pets are allowed in the area.
Additionally, the beach provides visitors with a 200-foot fishing pier and numerous volleyball nets for a spring day of outdoor recreation. After your outdoor activities, you can relax with a joint in the facilities that offer changing rooms, a refreshment stand, and a full-bath house. 
The beach even includes a big picnic area under the cool shade of cedar trees. With the grills, picnic tables, and playground equipment, Breezy Point Beach is the perfect picnic place of your dreams.
North Beach
North Beach is open for visitors from 8 am until dusk, except in extraordinary climate circumstances. Residents of the Town of North Beach don't need a special beach pass to visit the beach since 2019.
The Welcome Center includes pleasant bathrooms open all year with special policies and rental conditions that can be found on the facility's official website. In order to spend an enjoyable time in North Beach, you should follow the rules imposed by the state. When it comes to smoking or vaping in the public parts of the beach and the park, there are certain restrictions you should be updated about.
Visitors who intend to swim in the area should remember that North Beach doesn't employ any lifeguards, so you can do it at your own risk. As for pet owners, they can walk their leashed pets on the boardwalk, but not on the beach. By breaking these rules, you may risk a fine of up to $500.
Matapeake Beach
Matapeake Beach is a tourist attraction set on the Chesapeake Bay on Kent Island. The area includes:
An outdoor amphitheater.

A public swimming beach.

A one-mile trail leading to the surrounding woods.

A family picnic area.
The beach, which is open for visitors from sunrise to sunset, is the most convenient place for smokers.
A winding trail is located in the middle of the woods that leads to Dog Beach in the Chesapeake Bay. You have a parking option at the Public Beach lot and the Matapeake Clubhouse. Keep in mind that pets aren't allowed at the public beach, the clubhouse, or the lawn.
Dog lovers can opt for the special pet trail that starts next to the rear of the clubhouse. Make sure you keep the area's hygiene at a high level by bringing a plastic bag and keeping the place clean and healthy for families visiting the public beach.
Calvert Cliffs State Park Beach
The Calvert Cliffs State Park is primarily famous for the huge eponymous cliffs present on 24 miles of the shoreline of Chesapeake Bay. These cliffs have been here for 10 to 20 million years, making them a captivating attraction for every nature lover. For visitors that arrive with a personal vehicle, the day-use service fee is $5, while for using a small bus or a large bus, you will be charged $10 or $20.
By visiting these cliffs, you can find the ancient remains of prehistoric animals, such as whales, rays, seabirds, and sharks that used to roam this area millions of years ago. If this captured your attention, don't hesitate to spend your springtime hangout with friends in this state park, where you can spend your time fishing, hiking, and learning more about the history of Maryland.
Make Springtime Hangouts Better with Weed Delivery Maryland
Green Gorilla makes your hangout sessions so much better with our weed delivery service in Maryland. Our products range from carts and concentrates to pre-rolls and edibles. For inquiries, contact us today.