Anyone interested in cannabis should know about the Purple Kush strain, which has remained a favorite worldwide. It is a must-try if you haven't experienced it yet. This article will give you a full rundown of its roots, creation, makeup, effects, and how to enjoy it best. Take this purple trip.
Colors, Aroma, and Flavor
The Purple Kush strain is a classic Indica strain with a distinctive look described by some as a work of art.
The flower is a deep violet red with shades of light to dark pink. The bud is bright green and furry with brilliant orange and purple hairs and curly orange pistils. The leaves range from neon to deep green, with water leaves that go from coral to purple.
The aroma is subtly sweet and earthy. Its flavor brings plump berries and grapes to mind with an undertone of red wine and a bubble gum twist.
The Purple Kush Strain Makeup
The Purple Kush strain stands proud as one of the rare strains that are 100% Indica. Its THC level ranges from 20.8% to 27%, with only 0.1% CBD and 0.3% CBG.
From various chemical profiles, the estimated total terpene content is 6.79% made up of:
1.66% Linalool
1.53% Myrcene
1.25% Caryophyllene oxide
1.07% Humulene
1.01% alpha-Pinene
0.27% Caryophyllene
< 0.01% beta-Pinene
< 0.01% Limonene
< 0.01% Terpinolene
This is essential information because Dr. Ethan Russo, MD, a leading psychopharmacology researcher, stated that terpenes are responsible for the main effects of a cannabis strain. Myrcene provides a sedative effect. Limonene, on the other hand, lifts mood and energizes. Meanwhile, the adverse effects of THC are minimized by alpha-pinene. This is, indeed, seen in the effects of the Purple Kush strain with its high myrcene level.
Effects and Therapeutic Benefits
The Purple Kush strain immediately makes you euphoric with happy thoughts. You may find yourself giggling or laughing, and then this will mellow into positive introspection. You will feel your body relax from the head down. You will feel sedated, contented, and blissful for hours. Eventually, you will drift into a deep sleep that will also last for hours.
This strain provides potent and immediate relief for cancer pain, chronic pain, muscle spasms, muscle tension, nerve damage, and fibromyalgia. It treats long-standing insomnia and eases depression, anxiety, stress, and fatigue.
How to Best Enjoy Purple Kush
Here are the best pairings for the Purple Kush strain to further enhance your experience, as recommended by Flavor Fix.
Because of its calming and soothing effects, enjoy this strain at night, perhaps after a tiring and stressful day. Ensure that you have no tasks to do except relax and enjoy yourself.
Music that goes well with it includes:
Purple Rain by Prince
Purple Haze by Jimi Hendrix
Purple Kush by Juicy J
The perfect food for your munchies are:
Purple potato fries
Eggplant tempura
Berry pie topped with vanilla ice cream
Pair it with the following drinks:
Sweet and fruity red wine
Purple cocktails with cranberry juice and blue curacao
Butterfly pea tea with lemon invigorated with a dash of your favorite spirits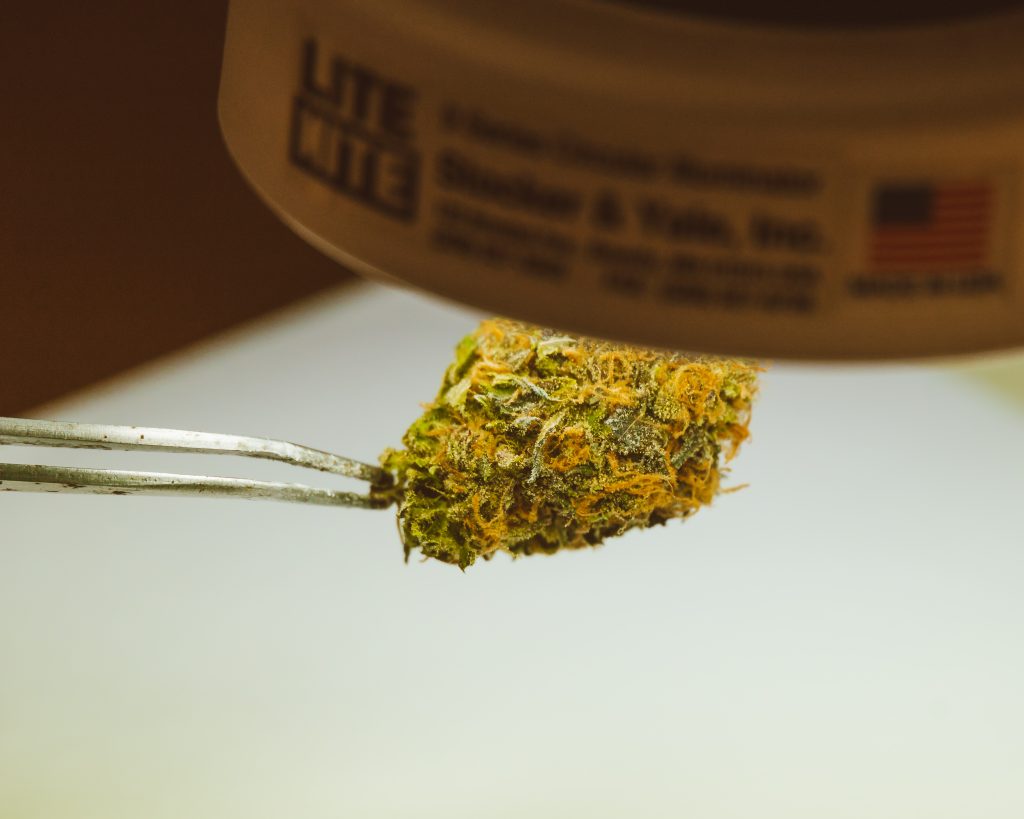 How the Purple Kush Strain Came to Be
The Purple Kush strain was created in Oakland, California, by breeders who crossed the Afghani Purple and the Hindu Kush. Both are pure Indica. This traces the roots of the strain to the Hindu Kush Mountains that span Afghanistan and Pakistan. Its genetic background makes it one of the most potent Indica strains and one of the most excellent among Kush strains.
You can grow this strain by cloning, and then you must keep the mother plant for continuous propagation. It grows up to three feet and flower after seven to eight weeks.
It is best to grow this strain indoors where conditions can be fully controlled. A hydroponic setup can give it all the nutrients it needs as this plant is greedy for food. Keeping the temperature within 65 to 75 degrees Fahrenheit, humidity at 50%, and the right PH balance is crucial.
Monitor moisture levels closely to keep growing buds from rotting if grown outdoors. Prune leaves that do not receive sunlight for better airflow and to encourage growth at the top. Remember to keep the trim because you can make hash from it.
Safe Use of the Purple Kush Strain
Before trying the Purple Kush strain, ensure that you are not sensitive to THC. Remember, this strain has high THC content. Even if you can tolerate THC well, always start low when trying out a new strain.
Finally, it is crucial to purchase cannabis from a reputable source. That will ensure that your products are safe, not contaminated, of the highest quality, and fresh.
Green Gorilla is the leading medical marijuana delivery service in Maryland. We have all classic and new strains covered. Chat us up or fill out a form for inquiries.