Out of the 700 weed strains available today, one of them has notably garnered a lot of interest – the Cherry Runtz weed strain. In essence, the Cherry Runtz is a hybrid that helps cannabis buffs relax and feel joyous and uplifted with a tingly euphoric sensation.
It's an award-winning, top-shelf weed strain that's a blend of Cherry Pie and Runtz and meticulously offers the best of both worlds.
Continue reading our detailed Cherry Runtz strain review to learn all about the fan-favorite strain enjoyed by many recreational weed smokers.
Origins of the Cherry Runtz
The euphoria-inducing weed strain is a cross between Cherry Pie and classic Runtz, comprising a 50-50 ratio of both.
Being a 52% Indica strain and Terpinolene being the dominant terpene, the Cherry Runtz will perform well when made into an edible or puffed.
By combining the purest Cherry Pie strains and the all-time favorite – Runtz, you get a hybrid that offers a mouthful of flavor. Boasting 17% of THC and 1% CBG, this potent strain will deliver precisely the desired effects – one that'll get you high and excited.
Taste and Aroma of the Cherry Runtz
Tasting like sweet berries with a hint of spice, the Cherry Runtz strain will make you feel like you're munching on a sweet-smelling cherry pie.
The tropical pineapple flavor of the strain complements the fruity taste quite nicely. Some Cherry Runtz supporters describe the strain as both sour and spicy, with its aftertaste lasting for a good few hours after puffing.
Thanks to its parent strains, the Cherry Pie and the Runtz, the delicious, lingering taste of the Cherry Runtz will have you slip into tropical heaven and forget all your worries.
The Cherry Runtz Experience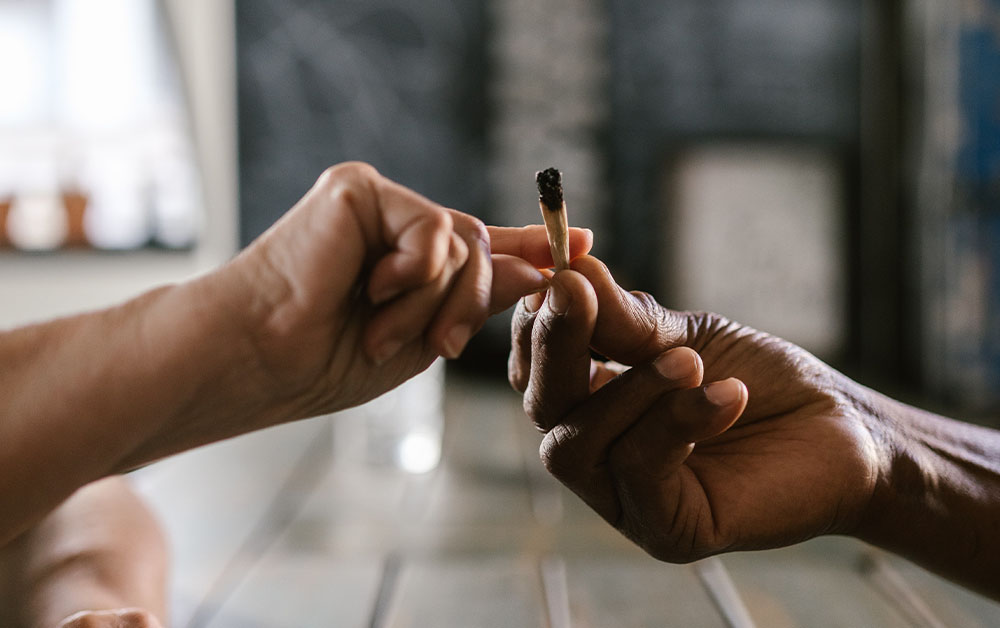 Many seasoned weedheads recommend enjoying the Cherry Runtz during nighttime since it will also relax your whole body and your head. Puffing the Cherry Runtz will render you deeply relaxed, happy, and uplifted while your body experiences a pleasurable tingling feeling.
While the cherry pie aroma will linger around you as you puff, eventually, you'll enter a deep sleep for the ultimate relaxing experience. Besides the sheer joy of using it, the Cherry Runtz boasts some medical benefits we'll explore below.
Alleviates Feelings of Depression
As with most Indica and Sativa strains, the Cherry Runtz is particularly potent in alleviating depression, which explains its popularity in the U.S., where most adults combat a certain type of depression.
Since Cherry Runtz helps consumers feel focused and energized, it helps them eliminate feelings of sadness, disinterest, and other unpleasant, negative emotions that point toward depression.
Treats Insomnia
Another perk of the Cherry Runtz strain is its insomnia-combating property. This hybrid strain is the go-to choice for many weed buffs who experience trouble falling asleep. Namely, puffing Cherry Runtz will help you fall into a more relaxed state of mind and ease your way into a good night's sleep.
Instead of getting hooked on sleeping pills, weed lovers with insomnia issues turn to Cherry Runtz for a naturally-induced state of relaxation that entices sleep.
Relieves Pain
Other than delivering a deep state of relaxation, the Cherry Runtz strain also delivers pain relief. It's a potent weed strain known to address the root cause of the pain, especially in the joints and in the case of arthritis.
If you're a weed smoker suffering from inflammatory issues, try the Cherry Runtz – it will deliver anti-inflammatory properties while also helping with swelling, muscle spasms, and chronic pain.
Promotes Appetite
As an appetite stimulant, Indica strains like the Cherry Runtz will increase your food cravings, which is great for those suffering from loss of appetite.
Once you take the first few drags, you'll feel excited and energized. However, as the feeling starts to wear off later, you'll feel hungry and tempted to dive into your favorite dish – promoting a boosted and healthy appetite.
Growing the Cherry Runtz
Weed buffs wanting to grow their Cherry Runtz strain should know a few things first, such as the primary cultivating conditions:
Suitable for indoor and outdoor growing
A warm climate is needed
Mid-October is best for harvest
There are differences between outdoor and indoor growing in that outdoor growing will deliver from 15 to 20 Oz/plant, whereas indoor growing will yield 1 – 2 Oz per square foot.
Cherry Runtz FAQs
What Strain Is Cherry Runtz?
Cherry Runtz is a hybrid between the Cherry Pie strain and the rare type of weed strain known as Runtz. It's an Indica-dominant strain with 17% of THC.
How Does the Cherry Runtz Make You Feel?
Calmness, profound relaxation, and feelings of euphoria are all trademarks of the Cherry Runtz strain. As the high wears off, you'll be well on your way to a good night's sleep.
Green Gorilla MD: The Place for All Things Weed
As the go-to weed delivery service in Maryland, we at Green Gorilla have just the things for a potent high.
From concentrates and edibles to pre-rolls and carts, you'll never miss out on the latest cannabis trends with us. You can order 24/7 and even request same-day delivery!
Contact us online or stop by our shop Monday through Sunday and let us help you choose the strain for you.